Strictly Business
RVCA Corner Gallery
Decorative glass panel created as part of 'Strictly Business' exhibition with Nathan Pickering at the RVCA corner gallery in Melbourne.
You can check out a clip for the lead up to the show here - https://vimeo.com/155347476
Consists of Acid etched letters with a 23 karat to 12 karat gold leaf blend. Blended enamel background with 23, 16 and 12 karat matte gold border details and Mother Of Pearl shell inlay.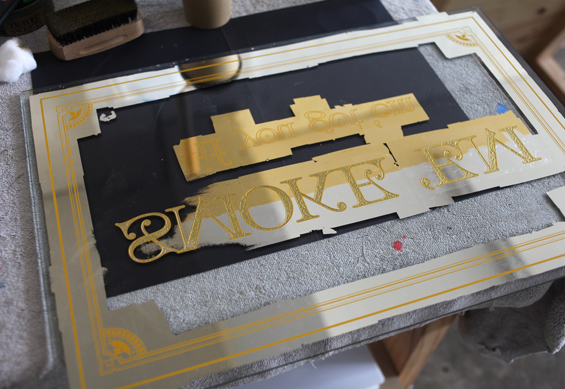 ---
Custom hand Painted gold leaf signs
Will Lynes is a Sydney-based decorative glass artist and designer, who specialises in traditional hand-painted sign writing, lettering, murals, gilding, and a variety of decorative painted finishes.
Read more